Do you know what it's like to get a tune in your head without realising it and then being surprised when you keep finding yourself humming it? I've had Edelweiss (from The Sound of Music) in my head all weekend, because the first thing I saw when I went to Lea Anderson's fantastic show Hand In Glove at the V&A on Friday evening was the version of Edelweiss from DoubleTake where the women dancers, in ambiguously masculine suits and brown brogues, whistle the tune while doing a deceptively simple hand-jive-gone-rogue and, one by one, are stealthily strangled and suffocated.
Hand In Glove was quite extraordinary. It had the ambiance of a club night with live and pre-recorded music (that became louder and louder as the evening wore on) with decor by Raphael (his huge unused cartoons for tapestries) and a gilded, international Gothic altar-piece in an apse at the end.
[photographer: Lea Anderson]
And the crowd. Dance world folk, women whose haircuts and discretely stylish clothes and handbags made me think they from the fashion world, some distinguished looking people who I thought might be some sort of sponsors (or trustees of something?), lots of students, and people from a subculture I recognise but can't name, slightly goth with lots of metal dangling from their septum. Amazing to bring this diverse assortment of people together in the presence of Raphael, Lea Anderson, and student dancers from The Place.
Lea is a master of detail – the small details of hand gestures carefully rehearsed and performed in immaculate unison; the thought that has gone into the transitions. By the time I had to leave on Friday night there was a huge crowd in the gallery who were being firmly but imaginatively corralled and herded by dancers. Dressed in the Mao costumes from Flag each held a large red board which they firmly but politely used to reorganise the performing spaces between one piece and another.
I could only stay for the first half of the evening, and left after the students danced Elvis Legs brilliantly.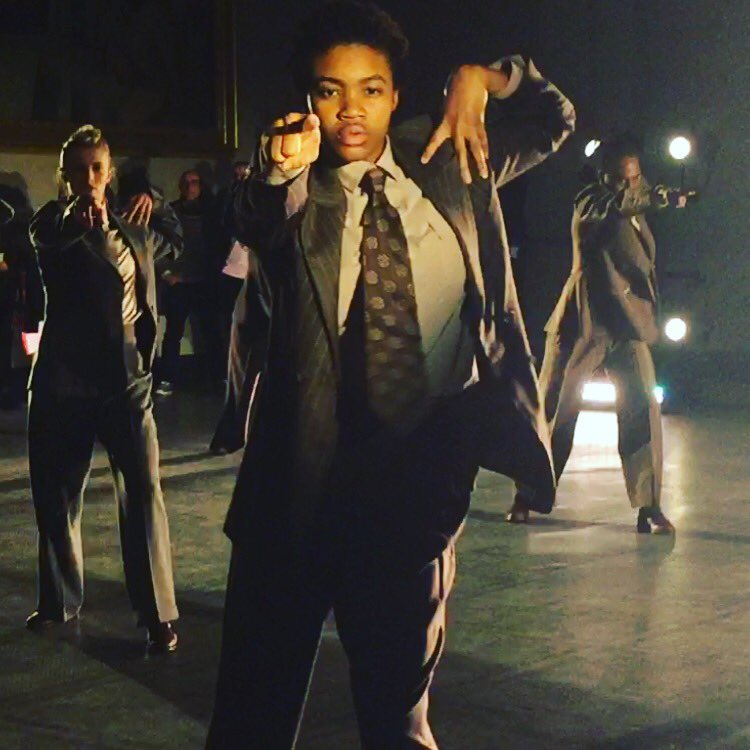 [photo: The Place]
It was for me an incredibly nostalgic evening. Every year for a couple of decades I used to look forward to what The Cholmondeleys and Featherstonehaughs' next show would be. The students did parts of Yippee!!! particularly well. But that brought back memories for me of the piece's critical reception.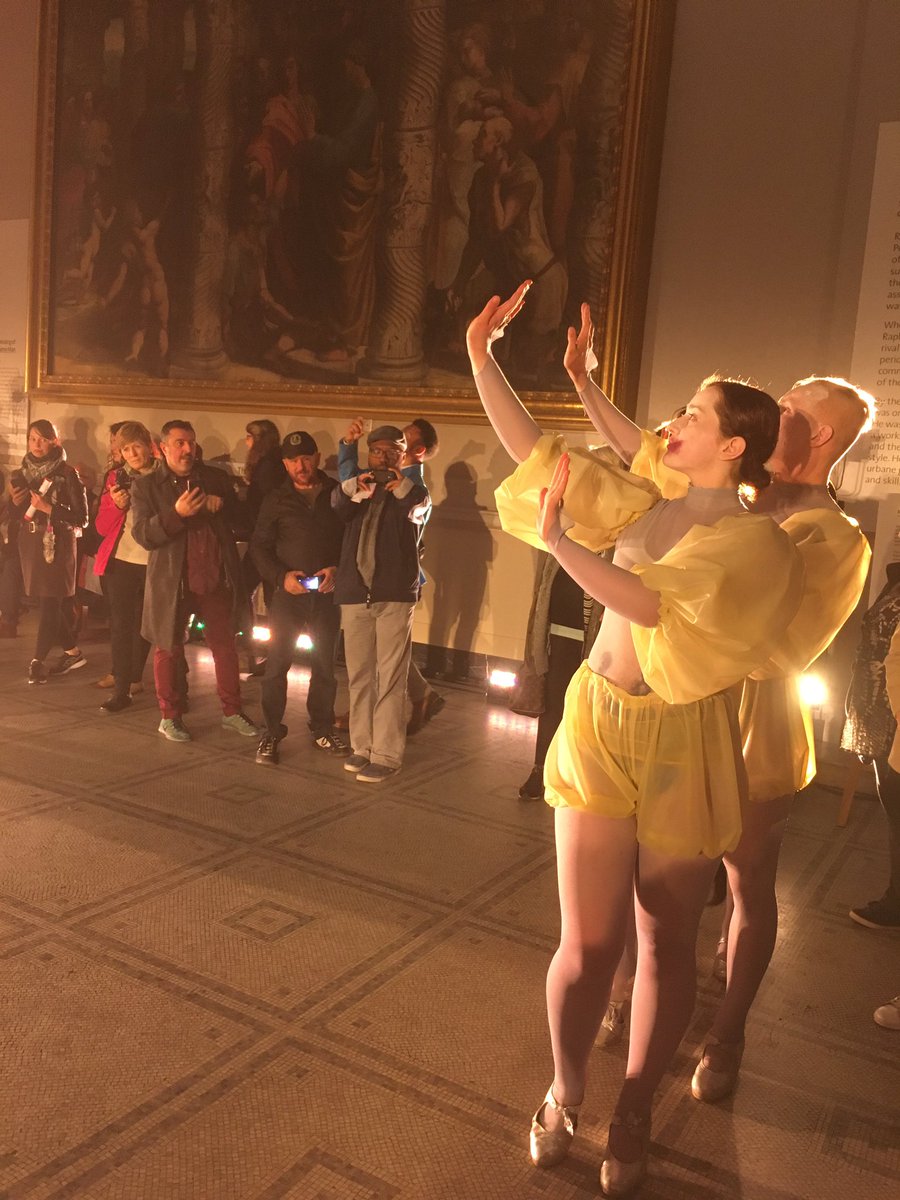 [photo: The Place]
I generally have little or no respect for the ballet critics (that's all they ever seem to be happy writing about) of the English national press. I'm biased perhaps. I wrote about Lea's work in my PhD, in my first, third, and fourth books, and have chapters on it in edited collections. Yippee!!! was a brilliantly surreal mash-up of Weimar girl-kultur and in particular the collages of Hanna Hoch, with a queer adaptation of Busby Berkeley, and references to Herman Hesse, Laurel and Hardy, and much more. It was a really sophisticated piece, which showed up the ballet critics' severe lack of understanding: there were headlines like 'Yippee!!! It's a flop' in the Guardian of all places.
http://www.theguardian.com/stage/theatreblog/2006/nov/07/post3
Rant over.
Seeing all those extracts from choreographies at the V&A – a kind of retrospective – showed yet again how richly creative they were. The costumes, music, and dance material all worked together so well, appeared to express one single idea, that the word 'collaboration' seems inadequate.
They are brilliant costumes. It is unfair to single out one, but think of the painted suits and painted silk leotards for The Featherstonehaughs Draw on the Sketchbooks of Egon Schiele by Sandy Powell. They are beautifully and expertly made and look uncannily like Schiele had painted directly onto the dancers.
[photo: The Place]
Well done Lea Anderson for getting such a mammoth show on with such consummate mastery. And well done V&A for letting her use the literally priceless Raphael cartoons as her latest and most extravagant stage set.
for more about Hand In Glove see:
http://www.leaanderson.com/works/hand-in-glove-3
http://www.theplace.org.uk/LeaAnderson
photos by Pau Ros http://www.pauphoto.co.uk/project/hand-glove-va/